Life on Wings
Cohabitation
Board game
Human-Bird Interaction
Life on Wings is a novel board game that aims to create awareness on the challenges that birds face in everyday life to survive in an urban environment. The game is about experiencing the life of other living beings while empathizing with the way their life changes with predictable and unpredictable events in the city. In the game, players live the life of a bird and perform its everyday activities while tackling various situations that an ever-changing environment like a city might offer. The game lets users experience the life of six tropical urban birds across three seasons of a year. By performing different activities of birds, players learn about the challenges that an ever-changing urban environment creates for bird species.
---
Made with by Prasad Sandbhor, Priti Bangal, Deepti Aggarwal & Rohit Ashok Khot.
Ideation
Duration: 2 months
Design
Duration: 6 months
Playtesting
Duration: 1 month
Life on Wings: ACM CHI PLAY 2021 presentation video.
Using first person perspective is not new in games to support empathy. In Life of Wings, we focused on the turmoil and the internal struggles of the urban birds that are not visible in the real world. For example, how do birds feel when their nest gets destroyed and how do birds manage their food intake if there is a natural disaster like fire outbreaks or floods. Instead of giving a short snapshot of their lives, we provided a longitudinal view on their lives by letting players perform different activities spanning across different seasons. Players also 22 experienced challenging situations like fire outbreaks and floods in different parts of a city map, where they made decisions like birds. Our approach to create empathy is different from the existing works, where the focus has been on providing short-term reflection on someone's life and allowing the players to live it in the game momentarily.
The game was tested with 11 participants with the aim to evaluate the design aspects (usability) of the game. Our study highlighted that the game supported collective reflection of participants on different aspects of the game, where participants learnt about birds' behaviours through discussion. Use of the local birds and natural situations was very much appreciated, and they could easily connect with the birds in their surroundings. Playing as birds, living in the urban habitat, helped participants to notice how human activities can help or harm the natural cohabitation, which generated empathy among participants. Based on the insights gained from the study, we presented three design implications to guide further development of playful experiences aiming to create awareness on the human-wildlife cohabitation. These implications talk about supporting collaboration over competition, encouraging the local game movement and facilitating longitudinal first person perspective in the game design through physical and digital counterparts.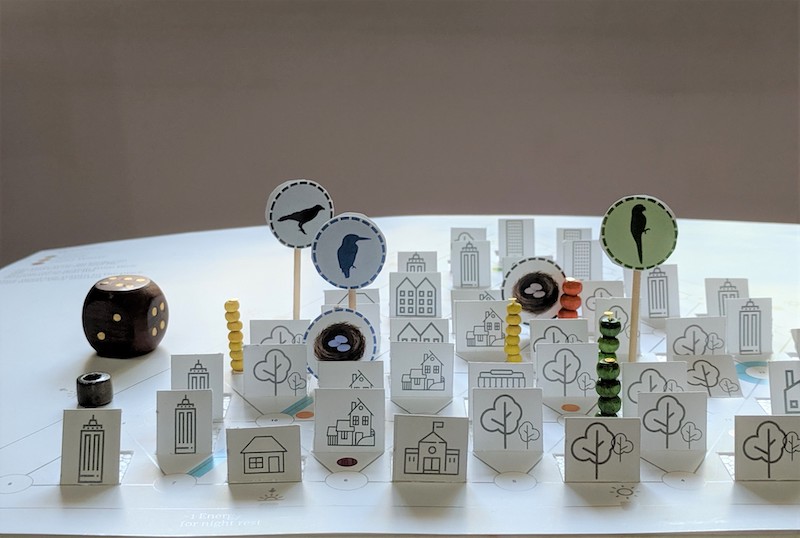 The authors start with a very poignant motivation about fostering playful nature conservation behaviours in cities, targeting birds in particular. The game is grounded in the literature on ornithology and game design. They cite adequate literature and position their work in an interesting space, in the more than human debate, pro-nature interventions, and sustainable biodiversity conservation.
Annoymous Reviewer
ACM CHI PLAY 2021.