Gooey Gut Trails
PhD Research
Gut Health
Social Play
This PhD research aims to help individuals create a better understanding of their gut health and the factors involved through play. With the increase in auto-immune disorders, having a holistic understanding of gut health factors is imperative, as it can help individuals make informed decisions about maintaining a well-balanced gut. This research will involve the design of two play based experiences. The first experience explores the concept of structured play (with a predefined start and end along with a set of rules that players follow) through the design of a board game called Gooey Gut Trail. The game introduces the different factors that influence gut health like genetics, mode of birth, diet, lifestyle and so on through real-world scenarios and spatial contexts introduced through the card decks and other game components like meeples, tokens and game board. Players engage with these factors through the manipulation of game components and reflect on the game interactions while making connections to the factors that shape our gut health. Building on the first study, the second part of this research will involve exploration of AR based technologies to understand the real-world socio-spatial elements affecting our gut health.
---
Made with by Nandini Pasumarthy, Yi-Ling (Ellie) Tai, Dr. Rohit Ashok Khot, & Dr. Jessica Danaher
Literature Review
Duration: 1 year
Case study 1
Duration: 1 year
Case study 2
Duration: 1 year
Video recording of ACM Creativtiy and Cognition presentation.
This research is grounded in the literature on gut health, sociology and game design concepts. Research suggests that the context in which information is presented, has a significant impact on our understanding of it. Our focus on engaging players with gut health information through play remains at the level of "functional scientific literacy" - which posits that individuals should possess minimum practical skills informed through science in order to make thoughtful decisions and function effectively in a particular setting. In contrast to the traditional sources of information on gut health, we focus on engaging players through playful experiences that are grounded in scientific literature and game design. This research facilitates learning about the gut and its interrelation to factors like diet, lifestyle, environment, emotions, thus preparing players to take this experience and the gathered insights into their real-life practices
Research suggests embedding complex science topics into the social and societal constructs of their occurrence so as to offer people a contextual understanding of the topic being communicated. The context in which information is presented directly affects the way it is perceived by an individual. It further decides the validity of information gathered, as well as its translation into real-world actions. The complexity of science topics like gut health may be appealing only to a niche crowd, for example, scholars in the medical field. However, health implications stemming from a lack of awareness on the factors influencing gut health are far-reaching. As such understanding the role of socio-spatial elements and the contexts through which factors affect gut health can play a vital role in designing playful experiences to engage with gut health factors. We integrate the real-world scenarios like bio-diverse landscapes with rich organic soil, forest air, and public spaces that affect our gut health in the game play to provide a contextual understanding of our gut health.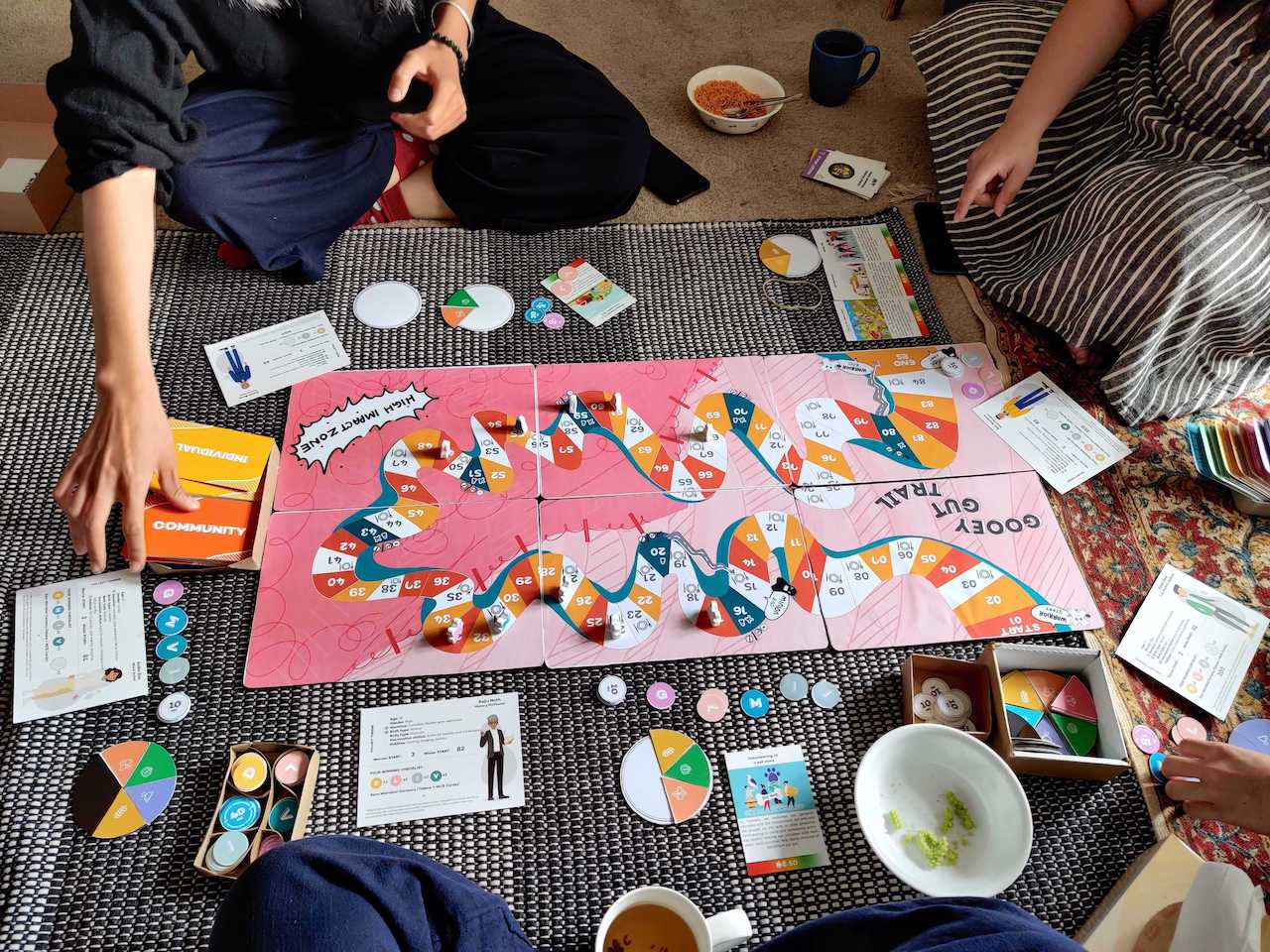 Overall, I enjoyed very much reading and 'seeing' this pictorial. The account of the design process is honest, and the design decisions are well justified and carried out in a truly multi-disciplinary way. I also commend the authors for addressing this often tabooed topic and for doing so with respect and playfully, avoiding to put the emphasis on illness or malfunction and towards normalizing a part of life.
Annoymous Reviewer
ACM C&C 2021